What does a laundryman/Dry Cleaners do?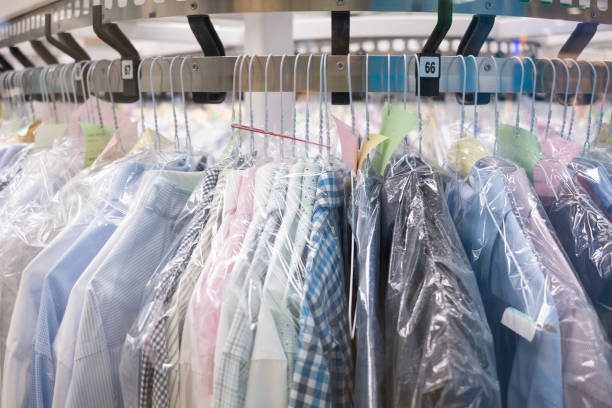 The job of a dry cleaner is that when a cloth becomes dirty or there is a stain on the cloth that we cannot wash at home, we have to give that cloth to the dry cleaner who cleans it thoroughly. . And makes the fabric wearable again. When we have to go to some function then we wear our best clothes at that time so that we have a good personality and if that cloth gets dirty or gets a deep stain then we cannot clean it at home. We need a dry cleaner to clean it, which washes the clothes thoroughly and makes them wearable again.
How do they help us?
A laundryman can help us in many ways such as if we want to go to a good function and ironing clothes at that time, we give our clothes to the laundryman then he ironing them well.
If the shine of our clothes goes away that does not make our clothes look good, then when we give it to the laundry, it polishes it well, brightens our clothes and we wear it again,
If we give any of our old clothes to the laundryman, he cleans and irons them thoroughly, after which the cloth shines and when we wear it, the cloth looks like new.
Benefits of laundryman/Dry cleaner?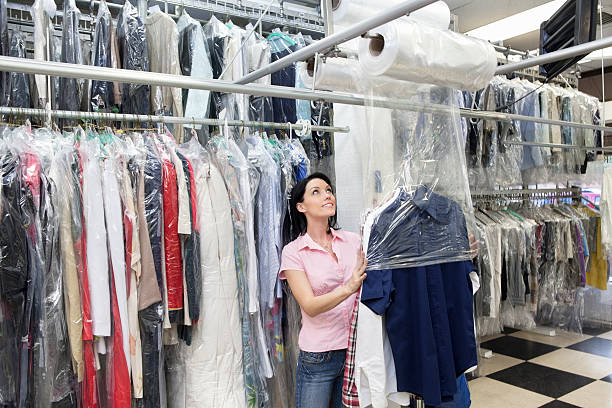 If we suddenly have to go to a function and we have less time and our clothes are messy and need ironing, then we can take advantage of washing and ironing clothes from any laundry,
If there is a bad stain in our clothes, then to get rid of it, we have to take the service of a laundryman, who removes the stain from the cloth and polishes it at that place and we get the benefit of it.
If our clothes or any expensive suit is old and we want to wear it again, then we give that suit to the dry cleaner, then the laundry makes it clean like new, which also benefits us.
List of top 10 laundryman/dry cleaners in Vizag:
| | | | |
| --- | --- | --- | --- |
| Sl. No | Name | Address | Phone no. |
| 1. | Vasista Laundry and Dry Cleaners | Vizag, Visakhapatnam, Andhra Pradesh – 530016 | +(91)7013652050 |
| 2. | Sri Chandra Agencies | Door No- 3-375/1, 2nd floor, Adarsh Nagar, Y TV behind, Old Diary Farm, Visakhapatnam, Andhra Pradesh – 530040 | +(91) 9642011877 |
| 3. | Mufty Kare | Near Bank Of India, alayya Satry Layout, Visakhapatnam, Andhra Pradesh – 530013 | +(91) 7075232425 |
| 4. | Sun Shine Dry Cleaners | 18-19-131, Shop no-4, TPT Colony, Balayya Sastri Layout, Near Eenadu Office, Seethammadhara, Visakhapatnam, Andhra Pradesh – 530013 | +(91)9908571199 |
| 5. | DROP N GO THE PREMIUM LAUNDRY | Hig-20/1, Sector-1, D.no-1-45-3, M V P Colony , Visakhapatnam, Andhra Pradesh – 530017 | +(91) 7799713811 |
| 6. | Lakshmi Dry Cleaners | Near Bus Stop, Naidu Thota , Visakhapatnam, Andhra Pradesh – 530003 | +(91)9290831365 |
| 7. | Jasmine White Dry Cleaners | K R Naidu Complex, Marripalem Road, NAD, Visakhapatnam, Andhra Pradesh – 530009 | +(91) 9885857849 |
| 8. | Lucky Dry Wash | Dadi Complex, Near Nad Junction, NAD Kotha Road, Visakhapatnam, Andhra Pradesh – 530027 | +(91)8125269939 |
| 9. | For 'U' Dry Cleaners | Opposite Spencers, Resapuvanipalem, Visakhapatnam, Andhra Pradesh – 530013 | +(91)7093316693 |
| 10. | Swetha Laundry And Cleaner's | Opposite Durga Ganapathi Temple, Seethampeta , Visakhapatnam, Andhra Pradesh – 530016 | +(91)9440608730 |
All you have to do is download the Professnow application and at no charge, you can use it to make your daily work easier. Anyone can use this application easily as we can easily complete all their essential tasks using this application and these are absolutely free applications.
RELATED VIDEO: