Who is laundryman/ dry cleaners? 
a man who works in or for laundry, esp. one who collects and delivers clothes, etc. for laundering service. 
What is dry cleaning?
Drycleaning is very similar to regular home laundering, but a liquid solvent is used to clean your clothes instead of water and detergent. Your clothes do get wet, but the liquid solvent used evaporates much more quickly than water. Dry cleaning is a thorough cleaning of natural luxurious materials such as silk and wool. Helps restore clothing "like new" by avoiding shrinkage, colour, and texture loss through dry cleaning. 
What are the benefits of dry cleaning?
1. It is gentler to the cloths 
Unlike other methods of cleaning cloths like using the hands or a washing machine, dry cleaning is quite gentle on the cloths. It does not involve all the pressure and the gripping, just the use of the solvent and the machine. 
 
2. It eliminates the use of water 
Water is one of the necessary mediums required for cleaning cloths, but it is not the only medium. It also has some disadvantages. For instance, cloths may lose their colour when soaked in water, or the fabric may crease and shrink, losing shape. Dry cleaning eliminates the use of water, thus eliminating the possibility of these disadvantages. 
 
3. It does a better job 
Dry cleaning can remove some stains and odors, which may be hard to get rid of using other cleaning methods. This is done by cleaning the fabric with the right organic solvent in the right conditions. This results in an overall cleaner and more comfortable fabric. 
 
4. It is suitable for many fabrics 
Clothes are not made for the sole purpose of covering the flesh, they are also meant to bring out the beauty and style in you. This may sometimes require the use of some delicate but fine fabrics, whose main disadvantage is that they may respond badly to how they are cleaned. Dry cleaning takes care of different kinds of materials to ensure the fabric retains its shape and feel. 
 
5. It goes beyond clothing 
The dry-cleaning process can be used to clean even certain types of shoes in the same manner and offering the same benefits. A shoe like the UGG boot for instance can be easily cleaned using this process.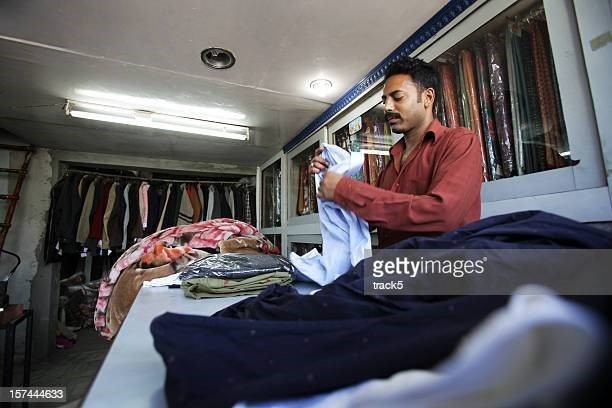 Here is a list of the top 10 best Laundryman/Dry Cleaners in Vadodara: 
| | | | |
| --- | --- | --- | --- |
| Sl No | Name | Address | Phone No |
| 1 | BEST LAUNDRY & DRY CLEANERS | GF – 3, Jay Kishan Avenue, Near Samrajya -1, Mujmahuda Road, Akota, Vadodara, Gujarat 390020 | 098983 79774 |
| 2 | Baroda Dry Cleaners | Jubilee Baug Rd, Opposite Jubilee Baug Circle, Kadwa Sheri, Raopura, Mandvi, Vadodara, Gujarat 390001 | 0265 241 8360 |
| 3 | Gujarat Dry Cleaners | SB-19, Baroda Productivity Council, BPC Rd, Below HDFC Bank, Aradhana Society, Vishwas Colony, Alkapuri, Vadodara, Gujarat 390007 | 0265 234 0959 |
| 4 | Snow White Laundry & Dry Cleaners | Opp. Ellora Park Police Choki, Subhanpura Rd, Vadodara, Gujarat 390021 | 098982 10237 |
| 5 | UClean Laundry | GF-22 B, Fatehsagar Appartment, near Cafe Coffee Day, Fatehgunj, Vadodara, Gujarat 390002 | 099997 59911 |
| 6 | Jay Kubereshwar Dry Cleaners | 9, Mira Apartments, Darbar Chowkdi, Jay Vaikunth Dham Society, Manjalpur, Vadodara, Gujarat 390011 | 091734 82796 |
| 7 | Robe Laundry & Drycleaning | 3, Silver Rock Apartment, Kanaiyalal Munshi Marg, Baroda Dairy Circle, Krupal Society, Makarpura, Vadodara, Gujarat 390009 | 089804 40585 |
| 8 | England Drycleaners | Shop No 1, Jay Ranchod Complex, Opp. Petrol Pump Cross Road Ambalal Park, Karelibuag, Vadodara, Gujarat 390018 | 098240 20704 |
| 9 | Prince Laundry & Dry Cleaning | 13 Sangrilla Complex Opp Bank H D F C NR Radhe Krishna, Shrenik Park Char Rasta, Akota, Vadodara, Gujarat 390020 | 097229 62813 |
| 10 | Snow White Laundry and Dry Cleaners | Vasna Rd, Niti Park Society, Shivashraya Society, Tandalja, Vadodara, Gujarat 390007 | 099040 69886 |
In Professnow We have gathered all the information about On-Demand Services in this platform, this is done by our professionals to help our customers to get connected for free. This is the best way to book an appointment with the best. The start-up we started in 2021, helps people to get connected who need services at their doorstep. We help you to get local services at your Market Place. 
RELATED VIDEO: